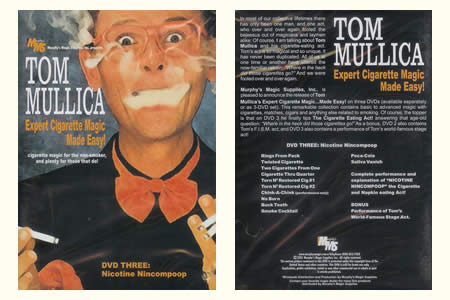 Description
La routine de Tom MULLICA est tellement magique et unique qu'elle n'a jamais été reproduite : il mange des cigarettes ! Nous avons tous prononcé un jour ou l'autre le refrain « Mais où vont ces cigarettes ?! ». Et nous nous faisons avoir encore et encore...


AU SOMMAIRE :


Rings From Pack

Twisted Cigarette

Two Cigarettes From One

Cigarette Thru Quarter

Torn N' Restored Cig #1

Torn N' Restored Cig #2

Chink-A-Chink (Performance Only)

No Burn

Buck Teeth

Smoke Cocktail

Poca-Cola

Saliva Vanish

Complete Performance & Explanation of "Nicotine Nincompoop", the Cigarette and Napkin-Eating Act. And a performance only of Tom's world-famous Strange Act !


Langue : Anglais.
Retour au catalogue