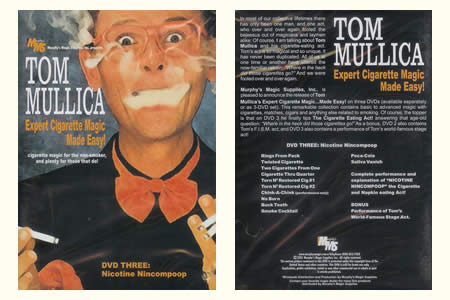 Descripción
Nicotine Nincompoop. La rutina de Tom Mullica es tan mágica y única que nunca ha sido reproducida: ¡se come los cigarrillos encendidos! Todos hemos dicho alguna vez..."Pero, ¿adónde van los cigarrillos?". Y lo pensamos una y otra vez...

CONTENIDOS:

Rings From Pack
Twisted Cigarette
Two Cigarettes From One
Cigarette Thru Quarter
Torn N' Restored Cig #1
Torn N' Restored Cig #2
Chink-A-Chink (Performance Only)
No Burn
Buck Teeth
Smoke Cocktail
Poca-Cola
Saliva Vanish
Complete Performance & Explanation of "Nicotine Nincompoop", the Cigarette and Napkin-Eating Act. And a performance only of Tom's world-famous Strange Act !
Idioma: Inglés
Volver al catálogo