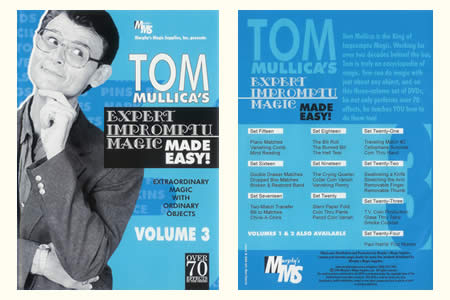 Description
Volume 3 :
Tom Mullica est le maître de la
magie impromptue
.
Après avoir travaillé pendant plus de deux décennies derrière le bar, Tom est devenu une véritable
encyclopédie vivante de la magie
.
Tom est capable de réaliser un tour de magie avec n'importe quel objet. Sur cette série de DVD il vous propose non seulement
70 tours
mais il vous apprend également
comment les réaliser
!
Au sommaire :


Set Fifteen
- Piano Matches
- Vanishing Comb
- Mind Reading


Set Sixteen
- Double Drawer Matches
- Dropped Box Matches
- Broken and Restored Band


Set Seventeen
- Two-Match Transfer
- Bill to Matches
- Chink-a-Chink


Set Eighteen
- The Bill Roll
- The Burned Bill
- The Hell Tear


Set Nineteen
- The Crying Quarter
- Collar Coin Vanish
- Vanishing Penny


Set Twenty
- Stern Paper Fold
- Coin Thru Pants
- Pencil Coin Vanish


Set Twenty-one
- Travelling Match #2
- Cellophane Surprise
- Coin Thru Hand


Set Twenty-two
- Swallowing a Knife
- Stretching the Arm
- Removable Finger
- Removable Thumb


Set Twenty-three
- T.V. Coin Production
- Glass Thru Table
- Smoke Cocktail


Set Twenty-four
- Paul Harris' Fizz Master



Langue
: Anglais.

Retour au catalogue
Cet article n'est
plus vendu sur Magicaplanet