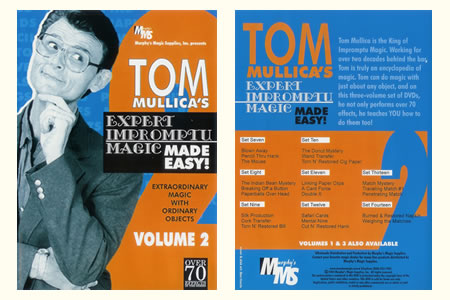 Description
Volume 2 :
Tom Mullica est le maître de la
magie impromptue
.
Après avoir travaillé pendant plus de deux décennies derrière le bar, Tom est devenu une véritable
encyclopédie vivante de la magie
.
Tom est capable de réaliser un tour de magie avec n'importe quel objet. Sur cette série de DVD il vous propose non seulement
70 tours
mais il vous apprend également
comment les réaliser
!
Au sommaire :


Set Seven
- Blown Away
- Pencil Thru Hank
- The Mouse


Set Eight
- The Indian Bean Mystery
- Breaking Off a Button
- Paperballs Overhead


Set Nine
- Silk Production
- Cork Transfer
- Torn and Restored Bill


Set Ten
- The Donut Mystery
- Wand Transfer
- Torn and Restored Cig Paper


Set Eleven
- Linking Paper Clips
- A Card Force
- Double X


Set Twelve
- Safari Cards
- Mental Nine
- Cut N' Restored Hank


Set Thirteen
- Match Mystery
- Travelling Match #1
- Penetrating Match


Set Fourteen
- Burned and Restored Napkin
- Weighing the Matches



Langue
: Anglais.
Retour au catalogue