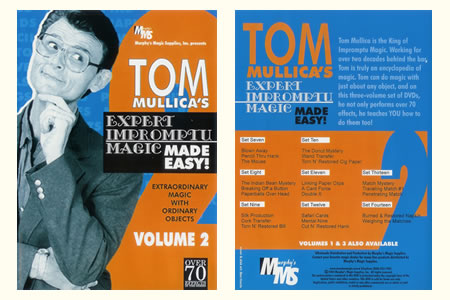 Description
Volume 2:
Tom Mullica is the king ot
impromptu magic
.
Working for over two decades behind the bar, Tom is truly an
encyclopedia of magic
.
Tom can do magic with just about any object, and on this three-volume set of DVD, he not only performs over
70 effects
, he teaches you
how to do them
too!
Contents:


Set Seven
- Blown Away
- Pencil Thru Hank
- The Mouse


Set Eight
- The Indian Bean Mystery
- Breaking Off a Button
- Paperballs Overhead


Set Nine
- Silk Production
- Cork Transfer
- Torn and Restored Bill


Set Ten
- The Donut Mystery
- Wand Transfer
- Torn and Restored Cig Paper


Set Eleven
- Linking Paper Clips
- A Card Force
- Double X


Set Twelve
- Safari Cards
- Mental Nine
- Cut N' Restored Hank


Set Thirteen
- Match Mystery
- Travelling Match #1
- Penetrating Match


Set Fourteen
- Burned and Restored Napkin
- Weighing the Matches



Language
: English.
Return to the catalogue