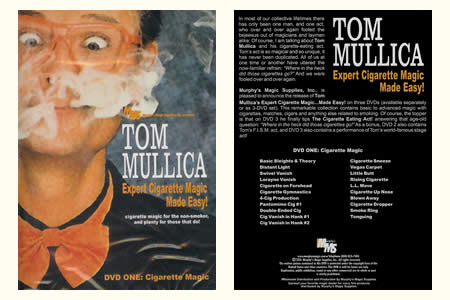 Description
In most of our collective magical lifetimes there has only been one man, and one act, who over and over again fooled the bejeesus out of magicians and laymen alike : of course, we are talking about
Tom MULLICA
and his cigarette-eating act. Tom's act is so magical and so unique, it has never been duplicated. All of us at one time at another have uttered the now-familiar refrain : "Where in the heck did those cigarettes go?" And we were fooled over and over again.
CONTENTS :
Basic Sleights & Theory

Distance Kight

Swivel Vanish

Lorayne Vanish

Cigarette on Forehead

Cigarette Gymnastics

4-Cig Production

Pantomime Cig #1

Double-Ended Cig

Cig Vanish in Hank #1

Cig Vanish in Hank #2

Cigarette Sneeze

Vegas Carpet

Little Butt

Rising Cigarette

L.L. Move

Cigarette Up Nose

Blown Away

Cigarette Dropper

Smoke Ring

Tonguing


Language : English.




Return to the catalogue