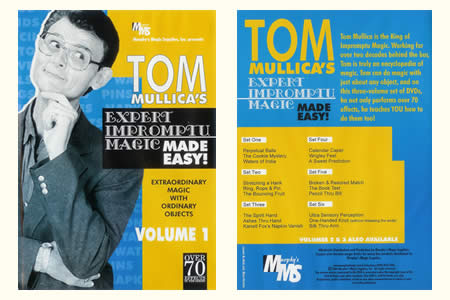 Description
Volume 1 :
Tom Mullica est le maître de la
magie impromptue
.
Après avoir travaillé pendant plus de deux décennies derrière le bar, Tom est devenu une véritable
encyclopédie vivante de la magie
.
Tom est capable de réaliser un tour de magie avec n'importe quel objet. Sur cette série de DVD il vous propose non seulement
70 tours
mais il vous apprend également
comment les réaliser !
Au sommaire :


Set One
- Perpetual Balls
- The Cookie Mystery
- Waters of India


Set Two
- Stretching a Hank
- Ring, Rope, & Pin
- The Bouncing Fruit


Set Three
- The Spirit Hand
- Ashes Thru Hand
- Karrel Fox's Napkin Vanish


Set Four
- Calendar Caper
- Wrigley Feel
- A sweet prediction


Set Five
- Broken & Restored Match
- The Book Test
- Pencil Thru Bill


Set Six
- Ultra Sensory Perception
- One-Handed Knot (without releasing the ends)
- Silk Thru Arm



Langue
: Anglais.

Retour au catalogue
Cet article n'est
plus vendu sur Magicaplanet