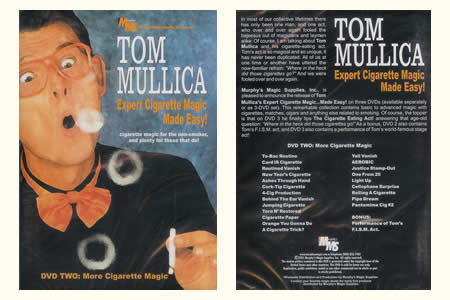 Description
La routine de Tom MULLICA est tellement magique et unique qu'elle n'a jamais été reproduite : il mange des cigarettes ! Nous avons tous prononcé un jour ou l'autre le refrain « Mais où vont ces cigarettes ?! ». Et nous nous faisons avoir encore et encore...


AU SOMMAIRE :


To-Bac Routine

Card IS Cigarette

Routined Va,ish

New Year's Cigarette

Ashes Through Hand

Cork-Tip Cigarette

4-Cig Production

Behind the Ear Vanish

Jumping Cigarette

Torn N' Restored Cigarette Paper

Orange You Gonna Do A Cigarette trick?

Yell Vanish

AEROBIC

Justice Stamp-Out

One From 20

Light Up

Cellophane Surprise

Rolling a Cigarette

Pipe Dream

Pantomime Cig #2

Bonus : A performance of Tom's F.I.S.M Act


Langue : Anglais.
Retour au catalogue