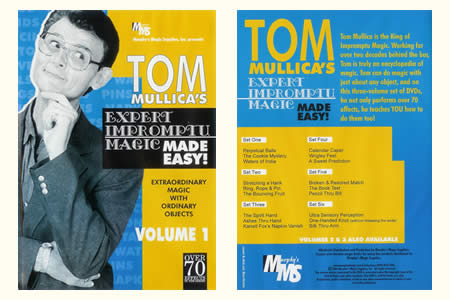 Description
Volume 1:
Tom Mullica is the king of
impromptu magic
.
Working for over two decades behind the bar, Tom is truly an
encyclopedia of magic
.
Tom can do magic with just about any object, and on this three-volume set of DVD, he not only performs over
70 effects
, he teaches you
how to do them
too!
Contents:


Set One
- Perpetual Balls
- The Cookie Mystery
- Waters of India


Set Two
- Stretching a Hank
- Ring, Rope, & Pin
- The Bouncing Fruit


Set Three
- The Spirit Hand
- Ashes Thru Hand
- Karrel Fox's Napkin Vanish


Set Four
- Calendar Caper
- Wrigley Feel
- A sweet prediction


Set Five
- Broken & Restored Match
- The Book Test
- Pencil Thru Bill


Set Six
- Ultra Sensory Perception
- One-Handed Knot (without releasing the ends)
- Silk Thru Arm



Language
: English.
Return to the catalogue