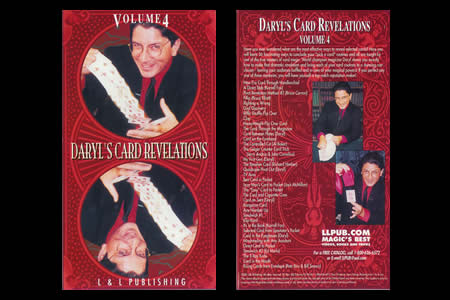 Description
Have you ever wondered what are the most effective ways to reveal selected cards? Here you will learn 36 fascinating ways to conclude your "pick a card" routines and all are taught by one of the true masters of card magic. World champion magician
Daryl
shows you exactly how to make that dramatic revelation and bring each of your card routines to a stunning conclusion – leaving your audience baffled and amazed by your magical powers ! If you perfect any one of these mysteries, you will have yourself a top-notch reputation maker !
CONTENTS :
New Era Card Through Handkerchief


A Direct Stab (Karrell FOX)


Pivot Revelation Method #2 (Bruce CERVON)


Fillip (Bruce ELLIOTT)


Righting a Wrong


Dual Discovery


Riffle Shuffle Flip Over


Clap


Heavy Weight Flip Over Card


The Card Through the Magazine


Card Between Plates (Daryl)


Card on the Forehead


The Controlled Cut (Al BAKER)


The Geiger Counter Card Trick (Jerry ANDRUS & John CORNELIUS)


My First Gun (Daryl)


The Revolver Card (Richard HIMBER)


Quadruple Pivot Out (Daryl)


TV Aces


Best Card in Pocket


Lazy Man's Card to Pocket (Jack MC MILLAN)


The "Easy" Card to Pocket


The Card and Cigarette Case


Card on Seat (Daryl)


Kangaroo Card


Any Number Up


Sandwich #1


Klip-Kard


It's in the Book (Karrell FOX)


Selected Card from Spectator's Pocket


Card in the Eyeglasses (Daryl)


Mindreading with Any Assistant


Direct Card to Pocket


Sandwich #2 (Ed MARLO)


The X-Ray Knife


Card in the Mouth


Rising Cards from Envelope (Pete BIRO & Bill SEVERN)





Language : English.



Return to the catalogue
This item is no longer
sold on Magicaplanet