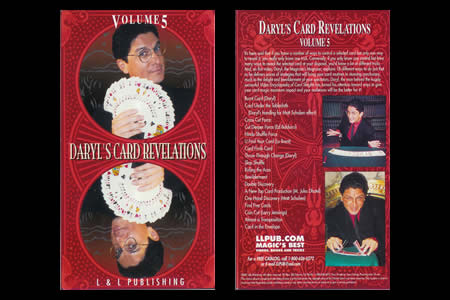 Description
It's been said that if you know a number of ways to control a selected card but only one way to reveal it, you really only know one trick. Conversely, if you only know one control but have many ways to reveal the selected card at your disposal, you'd know a lot of different tricks. And, on this video,
Daryl
, the Magician's Magician, explains 18 different ways to do just that as he delivers scores of strategies that will bring your card routines to stunning conclusions, much to the delight and bewilderment of your spectators.
Daryl
, the man behind the hugely successful
Video Encyclopedia of Card Sleights has turned his attention toward ways to give your cards magic maximum impact and your audiences will be the better for it !





CONTENTS :




Burnt Card (Daryl)


Card Under the Tablecloth (Daryl's handling for effect)


Cross Cut Force


Cut Deeper Force (Ed BALDUCCI)


Hindu Shuffle Force


U Find Your Card (Lu BRENT)


Card Finds Card


Throw Through Change (Daryl)


Slop Shuffle


Riding the Aces


Bewilderment


Double Discovery


A New Top Card Production (M.Jules DHOTEL)


One Hand Discovery (Matt SCHULIEN)


Find Five Cards


Coin Cut (Larry JENNINGS)


Almost a Transposition


Card in the Envelope





Language : English.



Return to the catalogue
This item is no longer
sold on Magicaplanet