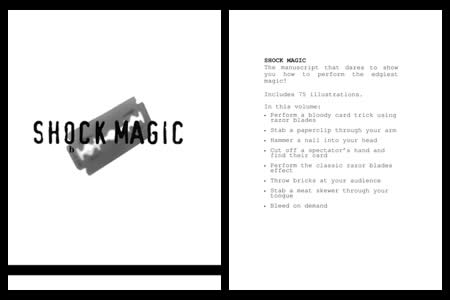 Description
A booklet different from the others: indeed, the effects included will surely amaze the audience with its disturbing effects!
You can introduce these effects in a halloween show, a wizard routine or in a scary magic trick that will frighten your audience!...

The Manuscript That Dares To Show You How To Perform The Edgiest Magic Is Back And Better Than Ever!


Contens:


Perform a bloody card trick using razor blades.

Stab a paperclip through your arm.

Hammer a nail into your head.

Cut off a spectator's hand and find their card.

Perform the classic razor blades effect.

Throw bricks at your audience.

Stab a meat skewer through your tongue.

Bleed on demand.


Language : English, Size : 21,4 x 28 cm, 40 illustrated pages.


Return to the catalogue