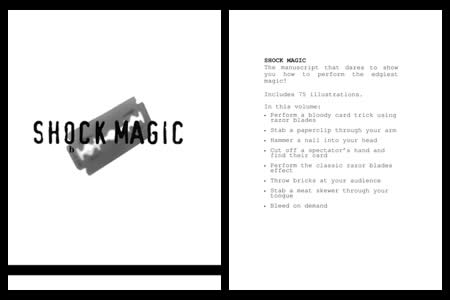 Descripción
Un fascicule différent des autres, car dans celui-ci, Andrew Mayne décrit des effets qui à coup sûr vont interpeller le public par leur aspect dérangeant !
Des effets à inclure dans un spectacle genre Halloween, un numéro de fakirisme ou dans un numéro de magie qui donnera la chair de poule aux spectateurs !...

Encore un ouvrage qui ose vous parler de la magie la plus tranchante… Andrew Mayne est de retour, plus en forme que jamais!


Au sommaire :


Perform a bloody card trick using razor blades.

Stab a paperclip through your arm.

Hammer a nail into your head.

Cut off a spectator's hand and find their card.

Perform the classic razor blades effect.

Throw bricks at your audience.

Stab a meat skewer through your tongue.

Bleed on demand.


Langue : Anglais, Format : 21,4 x 28 cm, 40 pages illustrées.


Volver al catálogo