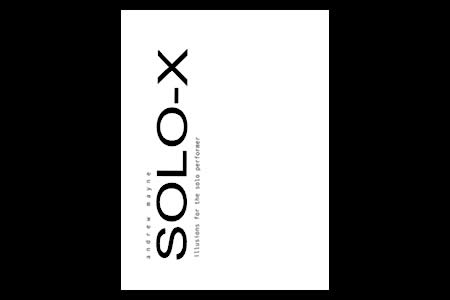 Description
The pecularity of these illusions consists in the fact that they can be perfomed alone, you don't need an assistant!! Hence the name of the book "Solo-X".
For each illusion, Andrew MAYNE wrote 6 pages including drawings with sizes for you to make the illusions by yourself!
For each illusion, Andrew MAYNE decribes the effect, explains the technique, the mecanisms and gives you tips and advices.
Contens:
Cyclone :pass through a CD.

Triplex : divide yourself in 3 parts.

Shrinkboy : compress your body, measure less than 30 cm.

A-Frame : pass through a mirror.

Blade Runner : a self-mutilation.

Techno Voo-Doo : compress your head.

Turbo : pass through a moving propeller.

Zig-Zag Redux : when art meets magics.

Box Trick : levitate in a box.

TV Trick : a tv apparition.


Language : English, Size : 21,7 x 28,1 cm, 65 illustrated pages.



Return to the catalogue
This item is no longer
sold on Magicaplanet