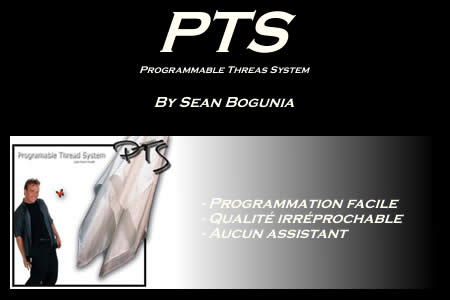 Description
The Programmable Threads System is a system that allows you to perform miracles. You will be able to bring a silk to life as well as other items such as a tie or a rope.

The PTS is programmable: you don't need assistant and it's self-working.

The flowing motion will be more realistic thanks to the vari-speed drive that will allow you to set up the required speed and flight time. Moreover the moves are now more than a simple round displacement.

The silk will move in the whole room, it will go out and enter, fly above the audience, suddlenly change the direction, jump, dance…before returning on stage.



No computer is required for the programming.

Easy programming.

Delivered with the required items and an instructional DVD.
Return to the catalogue