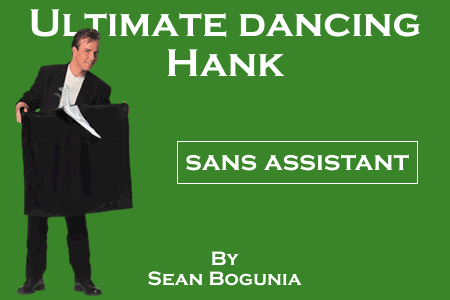 Description
The best dancing hank effect ever created!
An exclusive novelty only sold in United States !

Now you can perform the classical dancing hank
alone
with this new and revolutionary highly precise device.
That's it, no assistant, only you! And the electronic gimmick is
ever under control
!!!
EXAMPLE OF USE:
(you can create your own routine)
The handkerchief appears, it begins to dance and move over your shoulder. It even enters your jacket pocket.
You let down the silk, it's still dancing, and when you order it, it jumps into your arms!
At the end you put the silk inside a bottle that you close with a cap before going away. For all that, something impossible is going to occur… Indeed the silk is brought to life inside the bottle (no delivered) before it violently removes the cap and goes with you.
THE PRINCIPAL ADVANTAGE:
this is a trick that can be performed anywhere and whatever the conditions are: on stage, in close-up and even outside.
The microelectronic device is precisely manufactured and so on easy to use. It will allow you to bring the silk to life as you want it.
NO ASSISTANT
. All is ever under your control.
A very magic stage effect
.
What famous magicians think:
'I'll take one.' -- Jeff McBride


'No assistance? Really? You fooled me to pieces. Loved it!' - Gene Anderson


'In all my years on stage, I've never seen a practical one-man dancing hank... until now! I was completely fooled... Absolutely no offstage assistance!' - Abb Dickson


'Finally an Illusion that I can perform without Jonathan!' - Charlotte Pendragon

Return to the catalogue
This item is no longer
sold on Magicaplanet