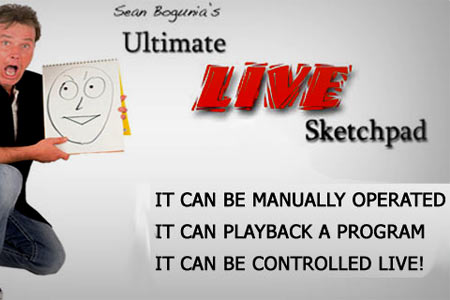 Description
Imagine, you pick up an artist sketch pad any time during your performance and draw any face you wish. Unexpectedly the drawing suddenly becomes animated with the eyes and mouth moving, but WAIT! There's more! You can even set the pad down on your table, a chair, an easel, almost anywhere and your drawings' eyes and mouth continue to move! You could even have the eyes follow your movements! And LIVE action means that you can control the mouth and eye movement at any time!
A compact long range handheld remote allows you to control the action yourself or have an assistant off stage control the action! Also, you can switch effortlessly between LIVE action and program mode so you can take advantage of those impromptu moments on stage, This allows LIVE interactions with your audience! Take advantage of those great impromptu moments with spectators! Have the face start talking when you are not even on the stage! Now for the KILLER ending! You lift up the single sheet of paper that you drew the face on and tear it from the Sketch Pad in full view of the audience and hand it out!!
NO SWITCHES! NO TRICKY MOVES! You tear off the ACTUAL drawing and hand it to a spectator for a souvenir they will NEVER forget!
DON'T ERASE THE MAGIC, HAND IT OUT!
What makes this Sketch Pad so Different from my other versions??
Well, Let me tell you!
It can be Manually operated
It can playback a program
AND
It can be controlled LIVE!
Sean Bogunia's LIVE Sketch Pad measures 11" wide by 14" tall, perfect for platform or stage performers. This pad also uses rechargeable LiPo Battery technology for the Remote and 9 Volt batteries for the Pad. It comes complete with everything you need for dozens of performances. Refill with any same size Sketch pad or purchase refills from us. We even include a case and batteries!!
Sean Bogunia's Ultimate LIVE Sketch Pad comes with everything you need to start performing right away!
Including:
Aluminum Carrying Case
DVD instructions
50 Page Drawing Pad
Marker and Accessory Items
Handheld Remote
Batteries and Charger

Return to the catalogue
This item is no longer
sold on Magicaplanet