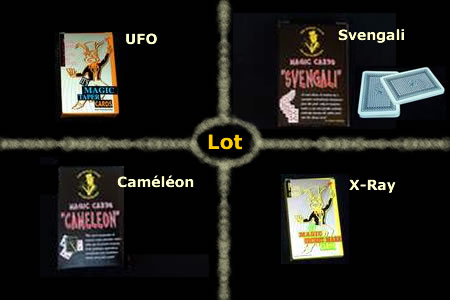 Description
The winning quart to animate your parties with a card show. You will also improve your sleights and the effects will be better!


Th Marked Card Deck: This deck will allow you to perform very impresive tricks without any handling thanks to a secret code on each card, undetectable by the audience. So you will be able to know the number and the figure of any card, even after the deck being shuffled.


The Svengali Deck: Among the different uses of the Svengali deck, here is some effect examples. Even all the cards seem to be different, you predict the chosen card. The spectator slides the blade of a knife anywhere in the deck and you can predict the cut card. You show the deck in order to prove that the cards are different, you blown on it and all the cards are the same.


The UFO deck: It's a kind of stripper deck, the cheaters favourite one. However, when used in magic, it allows you to perform a very vast number of routines such as find different chosen cards lost in the deck, perform false cuts.... The stripper deck will never be out of date, moreover, it is one of the rare gimmicked deck that can be examined by the audience.


The Cameleon deck: You ask a spectator to choose a card. He looks the reverse part of the card because he chose the only one with a magic wand on it (whereas the other cards are ordinary). The cameleon deck combien 3 magic process enabling to perform predictions, coincidences or appearances.



35 % discount on this set!!!
Return to the catalogue