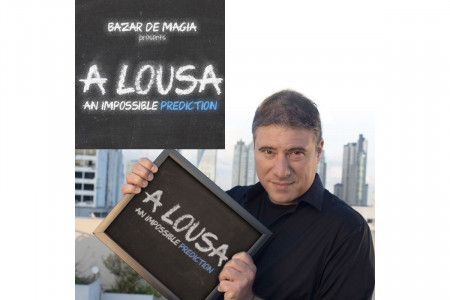 Description
You can use any group of words. It is totally customizable. It is a complete new concept created by Alejandro Muniz, FLASOMA 2017 Grand Prix winner (Latin American FISM).

A Lousa was completely sold out at the last magic convention in Argentina (2018).

- A Lousa can be examined.
- The prediction is always remains in full views.
- A spectator makes a free choice.
- No forces of any kind.
- Very easy to do.
- Use with words, numbers, figures, symbols, drawings, etc.
- Fully customizable.
- A great mentalism magic effect.
- Brand new effect.
- No double writing.
- No stooges.
- No electronic device.

You receive:

- A specially built slate (13 x 11 inches - 33 x 27 cm).
- The necessary gimmicks to perform the effect.
- Detailed English and Spanish online video tutorial, including many ideas, various different handlings and tips. 50 minutes of pure Magic.

Bazar De Magia quality.
Return to the catalogue