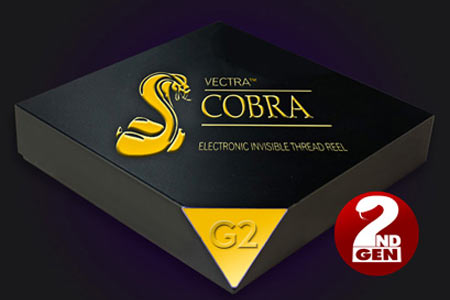 Description
The best reel on the planet just got better. Introducing the next generation, the Vectra Cobra G2. The G2 features a new motor that runs smooth, strong and SILENT! It's smooth-as-silk release minimizes bouncing and a SLOWER, steady retraction produces the most natural levitations EVER! It also sports a new self-locking cover, allowing for easier access and an even FASTER reset than the original Cobra!

The Vectra Cobra Electronic Invisible Thread Reel is the first electronic reel designed by the Master of Levitations Steve Fearson, specifically with the power of Vectra? in mind. The Cobra G2 is the 2nd Generation of this amazing device.

The Cobra is strong enough to harness the full power of Vectra, taking it to it's limit without breaking the thread. And it works with Original Vectra thread AND Vectra X2!
Return to the catalogue