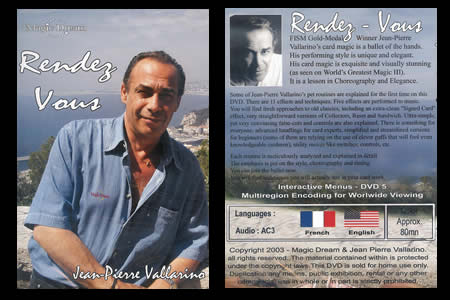 Description
FISM Gold-Medal Winner Jea,-Pierre Vallarino's card magic is a ballet of the hands.His performing style is unique an elegant. His card magic is exquisite and visually stunning (as seen on World's Greatest Magic III).
It is a lesson in choregraphy and elegance.

Some of Jean-Pierre Vallarino's pet routines are explained for the first time on this DVD. There are 11 effects and techniques. Five effects are performed to music.

You will find fresh approaches to old classics, including an extra-clean "Signed Card" effect, very straightforward versions of Collectors, Reset and Sandwich. Ultra-simple, yet very convincing false-cuts and controls are so explained.

There is something for everyone : advanced handlings for card experts, simplified and streamlined versions for beginners (some of them are relying on the use of clever gaffs that will fool even knowledgeable cardmen), utility moves like switches, controls, etc.


Each routine is meticulously analysed and explained in detail.

The emphasis is put on the style, choregraphy and timing.

You can join the ballet now.

You will find techniques you will actually use in your card work.

Running time : 80 minutes.
Languages :English / French.
Multiregion encoding for worlwide viewing.
Return to the catalogue