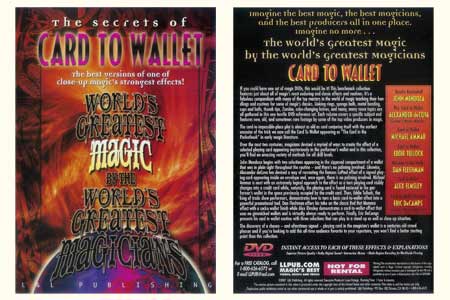 Description
Si vous ne deviez posséder qu'une seule collection de DVD sur la magie ce serait celle-ci !Cette collection de référence reprend les meilleurs effets et routines de la magie.C'est un fabuleux recueil dans lequel de nombreux maîtres magiciens vous apprennent leurs mouvements et routines pour quelques classiques de la magie.
Anneaux chinois, balles éponges, torsion du métal, balles et gobelets, faux pouces, zombie, canifs caméléons et de très nombreux autres sujets sont tous abordés dans cette impressionnante collection de DVD de référence.Chaque volume couvre un sujet spécifique et vous proposes quelques morceaux modernes, anciens et d'anthologie des meilleures vidéos de la magie.

Lors des deux derniers siècles, les magiciens ont inventé plusieurs manières d'amener le tour de la carte sélectionnée qui se retrouve mystérieusement dans le portefeuille du magicien. Dans cette collection, vous trouverez donc toute une suite de méthodes que vous pourrez utiliser quelque soit votre niveau.

John Mendoza commence avec deux cartes sélectionnées qui apparaissent dans une poche fermée de son portefeuille pourtant restée visible tout au long de la routine et ce sans empalmage.

Alexander deCova, lui, a récrée la fameuse routine de LePaul d'une carte signée qui apparaît dans une enveloppe et une fois de plus il n'y a aucun empalmage.
Michaël Ammar est le suivant avec une approche défiant toute logique. Une carte est déchirée puis transformée visuellement en une carte de crédit. Bien évidemment cette carte est retrouvée restaurée à la place généralement occupée par la carte de crédit dans le portefeuille du magicien.
Ensuite, c'est au tour d'Eddy Tullock, le roi des animations commerciales, qui vous explique comment transformer une simple carte au portefeuille en puissant outil promotionnel.
Dan Fleshman offre sa version du classique « Red Hot Momma » avec un portefeuille Socko.
Alex Elmsley présente son tour de la carte au portefeuille n'utilisant aucun gimmick et qui est réalisable à tout instant.
Enfin, Eric DeCamps présente sa routine de carte au portefeuille avec trois sélections pouvant être réalisées sur scène ou en close-up.

AU SOMMAIRE :


Bendix Bombshell de John Mendoza

Pro. Card to Wallet de Alexander deCova

Card in Wallet de Eddie Tullock

Momma in My Wallet de Dan Fleshman

Card to Wallet de Alex Elmsley

Card in Wallet Routine Eric deCamps

Langue : anglais – Durée : 66 minutes.
Return to the catalogue