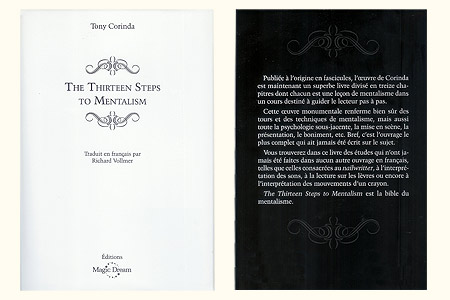 Description
Cette
œuvre monumentale
renferme bien sûr des tours et des techniques de mentalisme, mais aussi toute la psychologie sous-jacente, la mise en scène, la présentation, le boniment, etc. Bref, c'est l'ouvrage
le plus complet
qui n'ait jamais été écrit sur ce sujet.
Vous trouverez dans ce livre des études qui n'ont jamais été faites dans aucun autre ouvrage en français, telles que celles consacrées au
nailwsritter
, à
l'interprétation des sons
, à la
lecture sur les lèvres
ou encore à
l'interprétation des mouvements d'un crayon
.
The Thirtheen Steps To Mentalism est la
bible du mentalisme
.



Au Sommaire
Chapitre 1 : Le Swami

Chapitre 2 : Interprétation des mouvements du crayon, des sons, la lecture sur les lèvres, le toucher et le cumberlandisme

Chapitre 3 : Mnémotechnie et systèmes mentaux

Chapitre 4 : Les prédictions

Chapitre 5 : Les bandeaux

Chapitre 6 : Les petits papiers

Chapitre 7 : La divination d'un mot dans un livre

Chapitre 8 : Les effets spirites

Chapitre 9 : Tours de cartes

Chapitre 10 : La transmission de pensée entre deux personnes

Chapitre 11 : La voyance

Chapitre 12 : La publicité

Chapitre 13 : Le boniment et la présentation

Une conversation à bâtons rompus avec Claude Chandler


Langue : Française - Format : 17,8 x 24,8 cm - 519 pages illustrées


Return to the catalogue