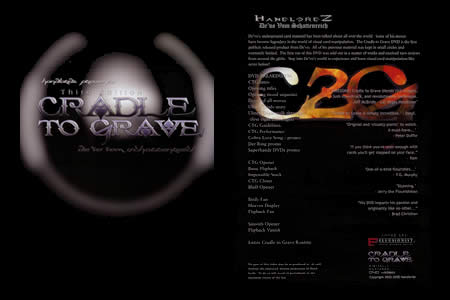 Description
De'vo's underground card material has been talked about all over the world.
Some of his moves have become legendary in the world of
visual card manipulation.
The Cradle to Grave DVD is the first publicly released product from De'vo.
All of his previous material was kept in small circles and extremely limited.
The first run of this DVD was sold out in a manner of weeks and received rave reviews from around the globe.
Step into De'vo's world to experience and learn visual card manipulation like never before!
Contents:


CTG Intro

Opening Titles

Opening Mood Sequence

Demo Of All Moves

Ulmen Trials Story

Ulmen Trials Walk Through (First Eight Challenges)

CTG Guidelines

CTG Performance

Cobra Love Song - Promo

Der Ring Promo

Superhandz DVDs Promo

CTG Opener

Basic Flipback

Impossible Stack

CTG Closer

Bluff Opener

Birdy Fan

Heaven Display

Flipback Fan

Smooth Opener

Flipback Vanish

Entire Cradle To Grave Routine


"AWESOME! Cradle to Grave blends rich images, lush soundtrack, and revolutionary technique."
- Jeff McBride - Las Vegas Headliner

"Cradle to Grave is simply incredible."
- Daryl

"Original and 'visually poetic' to watch. A must-have..."
- Peter Duffie

"If you think you've seen enough with cards you'll get slapped on your face."
- Kam

"One-of-a-kind flourishes..."
- T.G. Murphy

"Stunning."
- Jerry the Flourishman

"His DVD imparts his passion and originality like no other..."
- Brad Christian



Language
: English,
Running time
: 1h16
Return to the catalogue