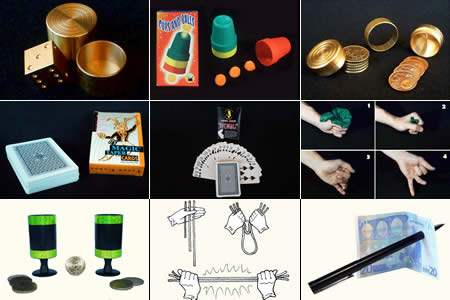 Description
Super telepathy or how to guess the selected number in a brass box.


Dynamics Coins An essential trick in magic.


Cups and Balls. Balls travels from one cup to another.


The U.F.O. deck also named the three-card-trick!!


The Svengali deck which is certainly the most simple and the most visual card magic effect.


Silk vanishing and much more... (delivered with 2 thumb tips, 2 15*15 cm silks and a 22,5*22,5 cm silk)


Euros teleportation, one more magic classic with a strong impact.


Professor's Nightmare Trick with growing and diminishing ropes.


The magic pen ...






Value: € 87 that is to said 22 € saved.
Return to the catalogue