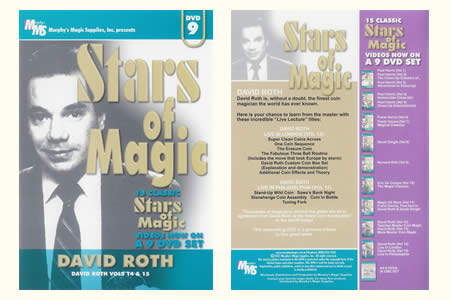 Description
Learn some of the most classic illusions from some of the true Stars of the magic world: Paul Harris, Frank Garcia, Derek Dingle, Bernard Bilis, Eric De Camps, and David Roth!
Volume 9: David Roth

David Roth is, without a doubt, the finest coin magician the world has ever known. Here is your chance to learn from the master with these incredible "Live Lecture" titles.

Contents:


DAVID ROTH - LIVE IN LONDON
- Super Clean Coins Across
- One Coin Sequence
- The Erasure Coin
- The Fabulous Three Ball Routine
(Includes the move that took Europe by storm)
- David Roth Custom Coin Box Set
(Explanation and demonstration)
- Additional Coin Effects and Theory


DAVID ROTH - LIVE IN PHILADELPHIA
- Stand-Up Wild Coin
- Sawa's Bank Night
- Stonehenge Coin Assembly
- Coin In Bottle
- Tuning Fork

Thousands of magicians around the globe are all in agreement that David Roth is the finest coin manipulator in the world today!


Language
: English,
Running time
: 3h00
Return to the catalogue