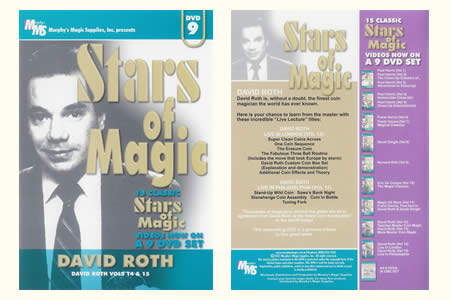 Description
Apprenez quelques uns des grands classiques de l'illusion avec les plus grandes étoiles de la magie : Paul Harris, Frank Garcia, Derek Dingle, Bernard Bilis, Eric De Camps, et David Roth !
Volume 9 : David Roth

David Roth est sans aucun doute le plus habile magicien de pièces que le monde n'ait jamais connu. Saisissez votre chance d'apprendre avec le maître en visionnant ses superbes « Live Lecture ».

Au sommaire :


DAVID ROTH - LIVE IN LONDON
- Super Clean Coins Across
- One Coin Sequence
- The Erasure Coin
- The Fabulous Three Ball Routine
(Includes the move that took Europe by storm)
- David Roth Custom Coin Box Set
(Explanation and demonstration)
- Additional Coin Effects and Theory


DAVID ROTH - LIVE IN PHILADELPHIA
- Stand-Up Wild Coin
- Sawa's Bank Night
- Stonehenge Coin Assembly
- Coin In Bottle
- Tuning Fork

Des milliers de magiciens de la planète s'accordent à dire que David Roth est le meilleur manipulateur de pièce de notre époque !


Langue
: Anglais,
Durée
: 3h00
Retour au catalogue