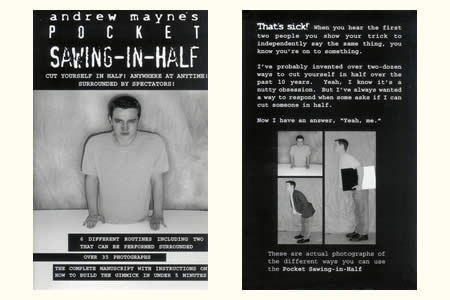 Description
The Pocket Sawing-in-half is a simple concept.
You can even make the gimmick in a minute (and it will cost you $.04)

Don't let its simple nature fool you. When performed under the right conditions it's a fun effect that make the audience do a doble-take and maybe tell you that you're "sick".

The Pocket Sawing has a "throwaway" effect without too much fanfare.

Andrew Mayne presents 6 way to perform the effect.

One of the effects:
The magician shows th audience a piece of cardboard.
He turns side ways and hold the board under his arm.
The top half of his body begins to move forward and is separated from the bottom half!
He pulls the cardboard away and everything is normal... except for that scar...



Simple concept

Low cost

Strong effect

Funny effect

Different ways to perform the trick

No fanfare

Few accessories

One more surprising idea from the known Andrew Mayne !


Language: English and French, Size: 13,6 x 21,6, 12 illustrated pages.


Return to the catalogue