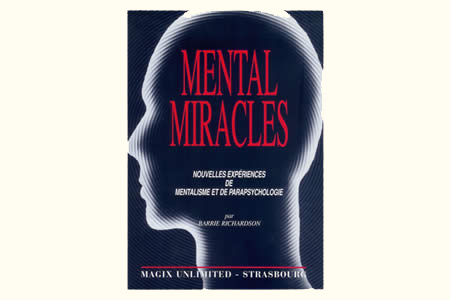 Description
Lorsque « Theater of the Mind » de Barrie Richardson (Mental Magie en français) a été publié en 1999, l'ouvrage a aussitôt été adopté par les magiciens et mentalistes, professionnels comme amateurs.
Dans ce volume, rapidement devenu un best-seller, l'auteur, artiste et conférencier, présentait un solide répertoire de routines toutes plus étonnantes les unes que les autres, aux mises en scène aussi séduisantes qu'efficaces s'appuyant sur des méthodes autant pratiques qu'ingénieuses.

Dans ce nouvel ouvrage (en quelque sorte le tome 2 du précédent), Barrie Richardson nous démontre qu'il n'a rien perdu de son génie. Son nouveau livre contient cinquante-quatre tours, idées et routines dans la lignée de son travail. La plupart des expériences sont décrites avec des présentations complètes reposant sur l'humour et un formidable sens théâtral où culminent des prouesses totalement impossibles et tout à fait incroyables.

Depuis qu'il a pris sa retraite en tant que professeur en management et Doyen de la « Frost School of Business », Barrie Richardson se produit dans le monde entier en tant que conférencier et artiste, en utilisant le mentalisme et la magie comme métaphores de passionnants concepts pratiques

Ceux qui ont lu Mental Magic savent déjà que la magie de Barrie Richardson est élégante, toute en finesse, sans manipulations difficiles ou compliquées, sans mécanismes secrets, sans gimmicks, et que les objets utilisés sont des objets de tous les jours, ce qui permet au mentaliste de se concentrer sur la présentation de ces mystères totalement inexplicables.


Au sommaire :



Qui perd gagne

Artifices

Au dessert

L'argent compte

Excursions mentales

Magie et métaphore

Magie avec des cartes

Les petits pa­piers

Super mentalisme

Ah ! Pensez à une carte


Quelques exemples :



Des spectateurs choisissent une carte et une position dans le jeu. Ils comptent jusqu'à cette position dans un jeu bien en évidence depuis le début et trouvent la bonne carte au nombre exact qu'ils ont choisi. Le magicien ne touche jamais aux cartes. Il n'y a ni forçage, ni échange et le jeu n'est pas truqué


De remarquables nouvelles techniques avec des cartes de visite et des Post-lt sont utilisées pour d'incroyables effets de lecture de pensée.


Les cartes rouges et les cartes noires d'un jeu mélangé par deux spectateurs se séparent mystérieusement dans leurs mains pendant que le magicien disserte sur les mystères du Mont Kenya situé sur l'Equateur.


Différentes prouesses de mémoire surhumaine et de calcul rapide achèveront de convaincre le public des facultés mentales extraordinaires du magicien... et par conséquent des leurs !


Une étrange forme solide se matérialise sous une nappe ordinaire puis disparaît inexplicablement.


La vraie méthode de la « Suspension du Bol de Riz » est enfin révélée dans son intégralité, accompagnée d'un conte chinois sur l'entraînement et la réussite


Des méthodes inédites sont expliquées dans ce livre pour deviner une ou plusieurs cartes choisies simplement pensées.


Trois nouveaux changes de jeu sont également expliqués. Ils sont faisables debout, sans l'usage de poches et ne requièrent aucune technique.


Vous découvrirez aussi un jeu qui se réarrange secrètement tout seul après avoir été mélangé par un spectateur et beaucoup d'autres expériences mystérieuses utilisant des pièces, billets de banque, magazines, billes, cordes, etc.


: Français, Format : 16,5 x 23,5 cm, 420 pages illustrées.


Return to the catalogue