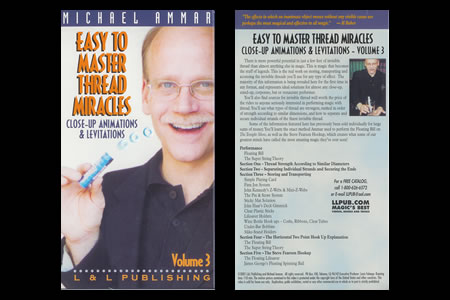 Description
There is more powerful potential in just a few feet of invisible thread than almost anything else in magic. This is magic that becomes the stuff of legends. This is the real work on storing, transporting and accessing the invisible threads you'll use for any type of effect. The majority of this information is being revealed here for the first time in any format, and represents ideal solutions for almost any close-up, stand-up, corporate, bar or restaurant performer.



You'll also find sources for invisible thread well worth the price of the Dvd to anyone seriously interested in performing magic with thread. You'll see what types of thread are strongest, ranked in order of strength according to similar dimensions, and how to separate and secure individual strands of the finest invisible thread.



Some of the information featured here has previously been sold individually for large sums of money. You'll learn the exact method Ammar used to perform the Floating Bill on The Tonight Show, as well as the Steve Fearson Hookup, which creates what some of our greatest minds have called the most amazing magic they've ever seen!





CONTENTS :




Performance

Floating Bill

The Super String Theory




Section One - Thread Strength According to Similar Diameters
Section Two - Securing the Ends, Separating Individual Strands
Section Three –Storing and Transporting

Simple Playing Card

Finn Jon System

John Kennedy's Z-Webs & Mini-Z-Webs

The Pin & Straw System

Sticky Mat Solution

John Haar's Deck Gimmick

Clear Plastic Sticks

Lifesaver Holders

Wine Bottle Hookups—Corks, Ribbons, Clear Tubes

Under-Bar Bobbins

Mike-Stand Holders




Section Four – The Horizontal Two-Point Hookup Explanation

The Floating Bill

The Super String Theory




Section Five –The Steve Fearson Hookup

The Floating Lifesaver

James George's Floating Spinning Ball





Language : English.


Return to the catalogue