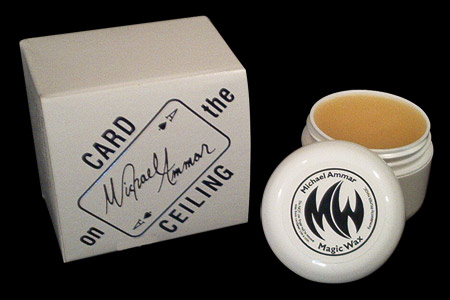 Description
Voici la
cire de Michael Ammar spécialement conçue pour le tour de la carte au plafond.
Cette cire d'une très grande qualité va se
coller facilement sur n'importe quel type de surface
pendant
très longtemps
. Elle ne vous laissera presque
pas de résidus sur les mains
après l'avoir malaxée.
La routine entière de la carte au plafond vous sera expliquée en français. Voici l'effet que vous connaissez certainement déjà : une carte est choisie librement par un spectateur, le magicien mélange le jeu et place un élastique tout autour du jeu, d'un coup, il jette le jeu vers le haut qui se met à tourner et vient cogner le plafond, le jeu est rattrapé par le magicien, il possède toujours l'élastique tout autour, par contre
une carte est restée collée au plafond, il s'agit de la carte du spectateur. Ce tour est incroyablement visuel et restera encré pendant longtemps dans la mémoire de vos spectateurs.
En plus, la carte restera collée longtemps au plafond du lieu où vous exercez votre magie, ce qui suscitera diverses interrogations à propos de cette carte mystérieuse (si vous le faites dans un restaurant où vous avez l'habitude de travailler).
Cire de très bonne qualité
Adhère très longtemps sur toute surface
Laisse très peu de résidus sur les mains
Vendu en pot
Routine carte au plafond de Michael Ammar en Français
Peut être utilisée également pour les lévitations d'objets avec FI
Pour travailler ce tour, le DVD "The secrets of card on ceiling" de la collection Word's createst Magic by the World's Createst Magicians est vraiment très bien fait. Vous apprendrez différentes versions de la carte au plafond par les meilleurs magiciens...
Return to the catalogue