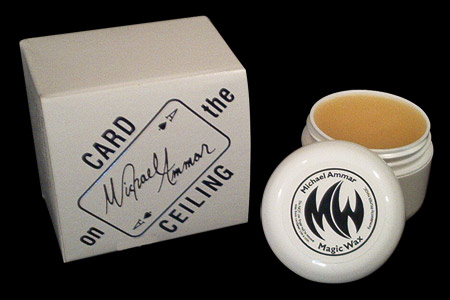 Descripción
He aquí la
Cera de Michael Ammar especialmente creada para el juego de la carta en el techo.
Esta Cera de una gran calidad que se
pega fácilmente a cualquier tipo de superficie
y además
por mucho tiempo
. Casi
no deja residuos en las manos
tras amasarla.
Se explica la rutina entera de la carta en el techo en francés. Este es el efecto que seguramente conoces: un espectador elije libremente una carta y el mago la pierde entre las demás y pone una gomita alrededor de la baraja. De repente, lanza la baraja hacia arriba hasta que golpea el techo y la atrapa cuando cae. Se ve que la goma elástica está alrededor de la baraja y sin embargo
una carta está pegada en el techo y se trata de la carta del espectador. Este juego es increíblemente visual y lo recordarán siempre tus espectadores.
Además, la carta quedará pegada durante mucho tiempo en el techo o el sitio donde hagas tu magia, lo que suscitará diversas interrogantes a propósito de esta carta misteriosa (si lo haces en un restaurante en el que trabajas habitualmente).
Cera de muy buena calidad
Se adhiere durante mucho tiempo durante cualquier superficie
Deja pocos residuos en las manos
Se vende en un bote
Rutina de carta en el techo de Michael Ammar en francés
También se puede utilizar para levitaciones de objetos con Hilos Invisibles
Para trabajar este juego, es interesante el DVD "The secrets of card on ceiling" de la colección Word's Greatest Magic by the World's Createst Magicians. Aprenderás las diferentes versiones de la carta en el techo de los mejores magos...
Volver al catálogo