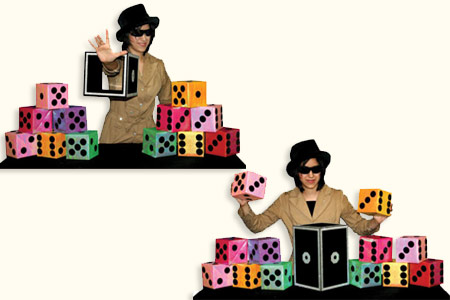 Description
Ce tour est très efficace pour un numéro de scène car d'abord il est
très visuel et impressionnant
, mais surtout, vous pourrez le faire
durer longtemps
au niveau de sa présentation.
Commencez par montrer une
boîte noire vide
à votre public.
Pour bien prouver qu'il n'y a rien à l'intérieur
passez-y votre main
et montrez la sous tous les angles, tout le monde verra qu'elle est bien vide. Ce modèle-ci est
génial
car vous pouvez carrément
ouvrir la boite pour la mettre à plat
, et ainsi la montrer des deux côtés. Vous pourrez également la refermer très rapidement grâce à un système d'aimants.
C'est alors que vous allez pouvoir surprendre les spectateurs...
Plongez votre main dans la boîte…et
surprise vous en sortez un dé géant!
Etonnement garanti…mais ce n'est pas fini… Sortez-en un deuxième, puis un troisième. Ces dès sont vraiment énormes et très colorés.
Ensuite, remontrez la boîte vide, tournez là sur elle-même, ouvrez-la, fermez-la, rien, absolument rien à l'intérieur.
Plus surprenant encore, réintroduisez votre main, trois autres dés en sortent.
L'opération pourra être renouvelée jusqu'à obtenir 12 dés géants au total.
Comment 12 dés géants peuvent-ils sortir d'une petite boîte pourtant vide au départ !
Matériel d'excellente qualité Tora
Le secret restera indécelable
Très facile à réaliser
Tour très visuel
Présentation longue


Dimensions de la boite :
19 cm x 19 cm x 28 cm
Dimensions du dé :
12 cm de côté

Return to the catalogue


We advise you with this product :
1.
Diseappering dice
185 €