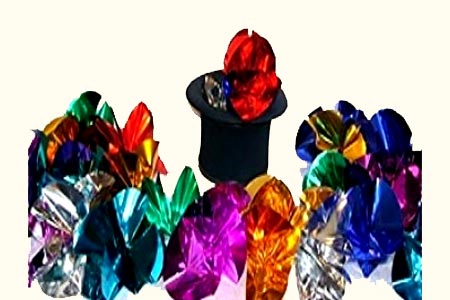 Description
Vous ne savez plus quoi sortir de votre chapeau ? Votre lapin prend trop de place ? Vos colombes se sont envolées ?
Utilisez alors cette fontaine interminable de fleurs colorées pour une apparition volumineuse qui dure et impressionne petits et grands.
Ça c'est de la magie !
En effet vous pourrez placer cette charge à l'intérieur d'un chapeau claque ou dans un livre, ou une "fantasta", ou une boite à production quelconque afin de réaliser une magnifique production d'une multitude de fleurs géantes très colorées.
Un très bel effet qui remplace largement une apparition d'animal dont vous devez vous occuper pendant des années. De plus, ces fleurs n'ont même pas besoin d'être arrosées...
Chapeau claque spécial livré avec 25 fleurs métalliques
Matériel de qualité
Réutilisable et durable dans le temps
Rayon des fleurs : 14 cm
Tour de tête du chapeau : 53,5 cm
Chapeau claque qualité pro

Return to the catalogue


We advise you with this product :
1.
Boule de fleurs Pro
25.5 €