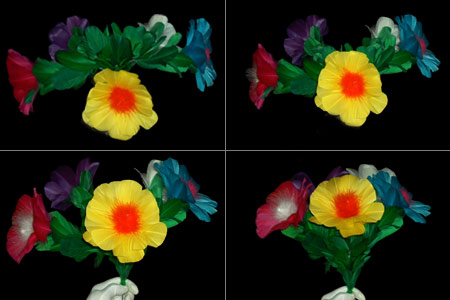 Description
" Les fleurs ont besoin d'énormément d'affection pour s'épanouir ! Au moins tout autant qu'un animal. Elle comprend tout ce que l'on dit ! "
Au son de ces mots, vos spectateurs se demanderont où vous voulez en venir.
Appuyez vos dires en parlant au bouquet de fleurs que vous tenez en main. Grondez-le, et immédiatement
les fleurs vont se courber, se faner
sous les yeux ébahis de vos spectateurs.
Demandez à une femme ou à un enfant de lui remonter le moral, de lui parler gentiment,
le bouquet se redresse immédiatement !
Ce magnifique bouquet composé de 5 fleurs en plumes de
haute qualité
sert aussi de
bouquet à apparition
grâce à la boucle qui permet de l'attraper rapidement. Il est possible de le charger dans votre veste, votre pantalon, ou n'importe quelle boite à apparition.
Bouquet de 5 Fleurs colorées
Plumes de haute qualité Tora
Bouquet à apparition
Bouquet qui se fane et se redresse à volonté
Très facile à faire d'une seule main
Gag très rigolo
Longueur du bouquet : 37 cm

Return to the catalogue


We advise you with this product :
1.
La fleur qui fâne
12.5 €