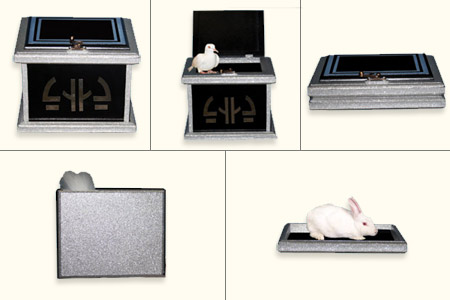 Description
Cette
boite fantastique
va tromper vos spectateurs jusqu'au bout.
En effet, après avoir placé une jolie
colombe à l'intérieur
d'une belle boite avec un design magnifique, le magicien, d'un petit coup de baguette magique, va démonter la boite pièce par pièce pour montrer que
la colombe s'est transformée en lapin.
Ce qu'il y a de très drôle, c'est qu'à un moment donné, vous pourrez montrer une partie de la boite sur laquelle dépasse quelques plumes de la colombe : tous les enfants vous crieront que la colombe est derrière ce socle, mais vous retournez pour montrer que ce ne sont que deux pauvres plumes…
Un gag excellent !!
Il n'y a plus aucune trace de la colombe. Celle-ci s'est
réincarné en lapin !
Boité légère
Très facile d'utilisation
Plusieurs possibilités d'utilisation
Disparition de colombe avec ou sans gag ; ou transformation de colombe en autre animal ou objet
Qualité Tora

Dimensions de la boite :
31 x 36 x 23 cm.

Return to the catalogue


We advise you with this product :
1.
Black Box (Tora)
90 €