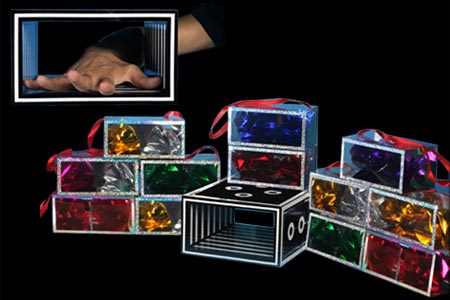 Description
Commencez par montrer une
boîte noire vide
à votre public.
Pour bien prouver qu'il n'y a rien à l'intérieur
passez-y votre main
et montrez là sous tous les angles, tout le monde verra qu'elle est bien vide.
C'est alors que vous allez pouvoir surprendre les spectateurs.
Plongez votre main dans la boîte…et
surprise vous en sortez un aquarium de fleurs!
Etonnement garanti…mais ce n'est pas fini…
Remontrez la boîte vide, tournez là sur elle-même, rien, absolument rien à l'intérieur.
Plus surprenant encore, réintroduisez votre main, un autre aquarium de fleurs en sort.
L'opération pourra être renouvelée jusqu'à 12 fois.
Comment 12 aquariums peuvent ils sortir d'une boîte pourtant vide au départ !
Matériel d'excellente qualité.
Fluidité dans les mouvements et les apparitions.
Le secret restera indécelable.
Vous pourrez produire jusqu'à 10 fois le volume de la boite.
Dimensions de la boîte :
24 cm x 27 cm x 13,5 cm.
Dimension d'un aquarium :
19 cm x 9 cm x 9 cm.

Vous pourrez aussi produire les aquariums deux par deux si vous le souhaitez et pourquoi pas charger d'autres objets tels que des foulards, fleurs à production…La boîte est composée de 6 compartiments secrets à ouvertures automatiques dont les fermetures sont aimantées et sécurisées.
Return to the catalogue


We advise you with this product :
1.
Special Dream Bag
49 €