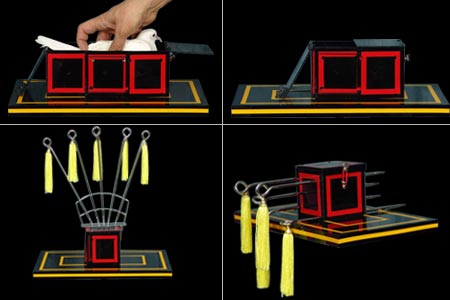 Description
Une jolie boîte de couleur
noire et rouge
dans laquelle une seule colombe peut entrer.
Cette boîte est composée de
trois parties
dont les
deux externes
peuvent être
rabattues au milieu
alors que celle du centre reste fixe.
Vous avez également à votre disposition
5 barres argentées
et la boîte comporte
5 trous
, dans le cube du milieu.
Prenez alors une colombe que vous déposez dans la boîte. Elle y rentre tout juste.
Déplacez un des côtés vers le centre de la boîte, puis faites la même chose avec le côté opposé.
A cette étape votre public sera déjà très surpris...comment la colombe peut elle se loger dans si peu d'espace ?
Afin de les surprendre encore plus, prenez les
barres argentées et transpercez le cube central
où votre colombe doit déjà se trouver bien à l'étroit.
Pour rassurer votre public ôtez alors les barres métalliques et remettez les cubes à leur place initiale, ouvrez la boîte,
la colombe est intacte
.
Très belles finitions.

Fabrication Tora.

Montage ultra rapide.

Guéridon et support piques métalliques fournis.


Hauteur du guéridon : 71,5 cm.
Dimensions de la boîte entière : 26,5 cm x 10 cm x 9 cm.
Dimension de la boîte repliée : 11 cm x 10 cm x9 cm.
Dimension du plateau : 35 cm x 20 cm x 2 cm.
Longueur des piques : 30 cm.

Return to the catalogue


We advise you with this product :
1.
Origamagic Stage Version
19.5 €