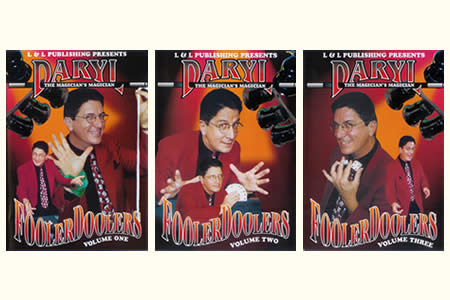 Description
Cette surprenante série en trois volumes vous apprend comment réaliser quelques uns des tours les plus surprenants du monde de la magie ! Voici les tours qui ont permis à Daryl de remporter le titre de « Magicien des Magiciens » et dont les mystères vous passionneront.
Chaque volume contient une grande diversité de tours de close-up, de cabaret, de magie impromptue... avec de nombreux effets automatiques et faciles à présenter.
En plus des tours rapides, impromptus et populaires, Daryl vous apprendra également de nombreuses routines complètes, avec une trame étudiée et une présentation détaillée.
Et comme si tout cela ne suffisait pas, chaque volume commence par une trentaine de minutes au cours desquelles Daryl vous présentera tous ces tours à la manière d'un spectacle. A découvrir entre amis, en familles ou entre magiciens.
DVD Fooler Doolers vol.1 (Daryl)
Le premier volume vous propose de nombreux tours utilisant des accessoires comme les cordes, les balles éponges, les cartes ou encore les foulards…
Parmi ces miracles, vous apprendrez entre autre choses à réaliser une des plus simples, efficaces et impromptues versions des gobelets et balles magiques (cups and balls) – la version dont vous avez toujours rêvé.
Daryl fera également de la méconnue routine "Mystery of the Traveling Marbles" (le mystère des marbres voyageurs) un véritable chef-d'œuvre et vous apprendra de surcroît à le réaliser !
AU SOMMAIRE :
Bennett's Boner (Horace Bennett)

Instantaneous Knot

Pretzel Knot

Dai Vernon's Climax to a Dice Routine (Dai Vernon)

Daryl's Color Changing Knives (Daryl)

Four of a Kind (Dai Vernon)

The Trick Question (Brother John Hamman, Daryl)

Chinese Laundryman (Eric D. Widger)

Mystery of the Traveling Marbles (Silent Mora, Daryl)

As Many and As Much As You (Jon Racherbaumer, Daryl)

Sponge Ball Routine (Daryl) Cup and Ball (Daryl)


Langue: Anglais.



DVD Fooler Doolers vol.2 (Daryl)

Voici un second volume vous proposant quelques uns des tours les plus magiques utilisant des foulards, des cordes, des allumettes, des dés ou encore des cartes…
Epoustouflez votre public avec un simple accessoire que vous connaissez peut-être déjà, le « Spectral Silk ». Apprenez ensuite à reproduire les mêmes effets grâce aux conseils d'un magicien de renom !
Apprenez également à réaliser le tour « A Knotty Problem » de Al Baker, revisité personnellement par Daryl.
Et, pour la toute première fois en vidéo, Dary vous présente et vous dévoile les secrets du tout premier tour qu'il a crée (toujours un de ses favoris).

AU SOMMAIRE :


"The Moveless Miracle."

Chinese Matches (Dai Vernon)

Vanishing and Reappearing Knots (Daryl)

Spectral Silk (J.C. Wagner)

Milliken's Transposition (Harry Milliken)

The Hindu Thread Trick (Al Baker)

Matched Spellout (Dai Vernon)

Rope Decapitation (Tenkai)

Ropes Through Body (Harold Rice, Daryl)

Dicey Dots (Daryl)

Moveless Miracle (Daryl)

Ring, Rope, Wand (Charlie Miller, Daryl)

A Knotty Problem (Al Baker, Daryl)


Langue: Anglais.



DVD Fooler Doolers vol.3 (Daryl)

Une surprenante compilation de tours avec des cordes, dés, foulards, pièces, cartes, lapins en éponges…
Si vous aimez la magie et que vous aimez rire, vous ne pouviez pas tomber mieux !
Parmi tous les tours mystérieux qu'il propose, Daryl vous présente et vous dévoile les secrets du tour « Pyro-Maniact » dans lequel un foulard ou une serviette de table est brûlé puis raccommodé.
Vous trouverez également une version plutôt étonnante du « Four Dice Chink a Chink ». Non seulement aucun dé supplémentaire n'est utilisé mais le dé voyage de surcroît en respectant l'ordre des chiffres.
Si vous êtes prêt pour une bonne partie de rigolade, regardez et apprenez comment présenter le tour « Peter Rabbit Hits the Big Time! » selon les exigences de Daryl. C'est probablement une des routines d'éponges les plus divertissantes qu'il ait été donné de voir. Vous aussi réalisez ce chef-d'œuvre de magie en seulement quelques minutes!


AU SOMMAIRE :


Peter Rabbit Hits the Big Time (Daryl)

Four Dice Chink-A-Chink (Bob Barrell)Follow the Leader (Dai

Vernon, Tom Bowers, Daryl)

Three to One Ropes (Martin Lewis, Daryl)

The Tenkai Pennies (Tenkai)

Sliding Knot (Mike Tannen, Daryl)

Back Flip (Sam Schwartz)

Sack's Dice Routine (Dr. Sack)

Bracelet and Rope Routine (Tony Anverdi, Jack Chanin, Rick Johnsson, Flip, Daryl)

Penetrating Matches (Martin Gardner)

Pyro-Maniact (Karrell Fox)

Crossed Thought


Langue: Anglais.

Retour au catalogue
Cet article n'est
plus vendu sur Magicaplanet