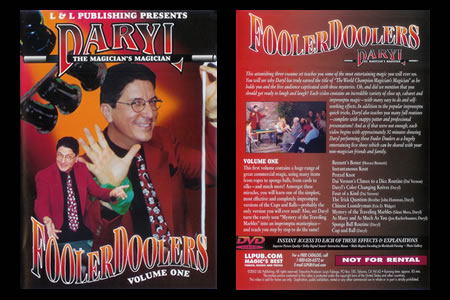 Description
Cette surprenante série en trois volumes vous apprend comment réaliser quelques uns des tours les plus surprenants du monde de la magie ! Voici les tours qui ont permis à Daryl de remporter le titre de « Magicien des Magiciens » et dont les mystères vous passionneront.
Chaque volume contient une grande diversité de tours de close-up, de cabaret, de magie impromptue... avec de nombreux effets automatiques et faciles à présenter.
En plus des tours rapides, impromptus et populaires, Daryl vous apprendra également de nombreuses routines complètes, avec une trame étudiée et une présentation détaillée.
Et comme si tout cela ne suffisait pas, chaque volume commence par une trentaine de minutes au cours desquelles Daryl vous présentera tous ces tours à la manière d'un spectacle. A découvrir entre amis, en familles ou entre magiciens.
Premier volume
Le premier volume vous propose de nombreux tours utilisant des accessoires comme les cordes, les balles éponges, les cartes ou encore les foulards…
Parmi ces miracles, vous apprendrez entre autre choses à réaliser une des plus simples, efficaces et impromptues versions des gobelets et balles magiques (cups and balls) – la version dont vous avez toujours rêvé.
Daryl fera également de la méconnue routine "Mystery of the Traveling Marbles" (le mystère des marbres voyageurs) un véritable chef-d'œuvre et vous apprendra de surcroît à le réaliser !
AU SOMMAIRE :
Bennett's Boner (Horace Bennett)

Instantaneous Knot

Pretzel Knot

Dai Vernon's Climax to a Dice Routine (Dai Vernon)

Daryl's Color Changing Knives (Daryl)

Four of a Kind (Dai Vernon)

The Trick Question (Brother John Hamman, Daryl)

Chinese Laundryman (Eric D. Widger)

Mystery of the Traveling Marbles (Silent Mora, Daryl)

As Many and As Much As You (Jon Racherbaumer, Daryl)

Sponge Ball Routine (Daryl) Cup and Ball (Daryl)


Langue: Anglais.



Retour au catalogue
Cet article n'est
plus vendu sur Magicaplanet