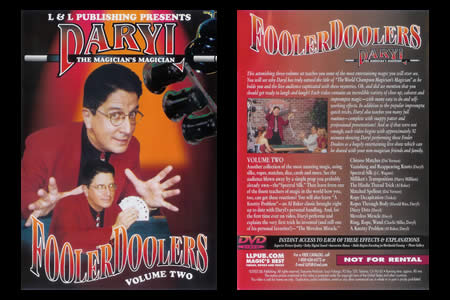 Description
Cette surprenante série en trois volumes vous apprend comment réaliser quelques uns des tours les plus surprenants du monde de la magie ! Voici les tours qui ont permis à Daryl de remporter le titre de « Magicien des Magiciens » et dont les mystères vous passionneront.

Chaque volume contient une grande diversité de tours de close-up, de cabaret, de magie impromptue... avec de nombreux effets automatiques et faciles à présenter.

En plus des tours rapides, impromptus et populaires, Daryl vous apprendra également de nombreuses routines complètes, avec une trame étudiée et une présentation détaillée.

Et comme si tout cela ne suffisait pas, chaque volume commence par une trentaine de minutes au cours desquelles Daryl vous présentera tous ces tours à la manière d'un spectacle. A découvrir entre amis, en familles ou entre magiciens.


Deuxième volume

Voici un second volume vous proposant quelques uns des tours les plus magiques utilisant des foulards, des cordes, des allumettes, des dés ou encore des cartes…
Epoustouflez votre public avec un simple accessoire que vous connaissez peut-être déjà, le « Spectral Silk ». Apprenez ensuite à reproduire les mêmes effets grâce aux conseils d'un magicien de renom !
Apprenez également à réaliser le tour « A Knotty Problem » de Al Baker, revisité personnellement par Daryl.
Et, pour la toute première fois en vidéo, Dary vous présente et vous dévoile les secrets du tout premier tour qu'il a crée (toujours un de ses favoris).


AU SOMMAIRE :


"The Moveless Miracle."

Chinese Matches (Dai Vernon)

Vanishing and Reappearing Knots (Daryl)

Spectral Silk (J.C. Wagner)

Milliken's Transposition (Harry Milliken)

The Hindu Thread Trick (Al Baker)

Matched Spellout (Dai Vernon)

Rope Decapitation (Tenkai)

Ropes Through Body (Harold Rice, Daryl)

Dicey Dots (Daryl)

Moveless Miracle (Daryl)

Ring, Rope, Wand (Charlie Miller, Daryl)

A Knotty Problem (Al Baker, Daryl)


Langue: Anglais.


Retour au catalogue