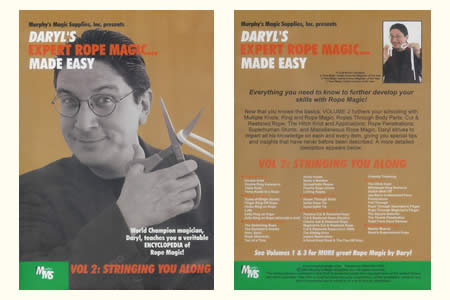 Description
Daryl, magicien et champion de renommée mondiale vous propose ici une véritable encyclopédie sur la magie des cordes en trois volumes.

Volume 2
Une fois les bases acquises, ce volume vous fait aller plus loin dans votre apprentissage au travers des noeuds multiples, de la magie alliant anneaux et cordes, des cordes au travers du corps, des cordes coupées et raccommodées, du noeud hitch et de son utilisation, des pénétrations de codes, des caractéristiques surhumaines et de magie diverse et variée. Daryl vous fait partager tout son savoir pour chaque objet, en vous donnant de précieux conseils et astuces, jamais révélés jusqu'à présent.


Au sommaire:


Multiple Knots
- Double Knot
- Double Ring Ceremony
- Triple Knot
- Three Knots in a Rope


Rings & Ropes
- Types of Rings (Small)
- Finger Ring Off Rope
- Hindu Ring on Rope
- Lefty
- Zella Ring on Rope
- Zella Ring on Rope (alternative ending)


Miscellaneous Rope Magic
- The Stretching Rope
- The Bachelor's Needle
- Here, Spot!
- Rope Gimmicks
- Two at a Time
- Hindu Knots
- Name a Number
- Sympathetic Ropes
- Pavel's Rope Circles
- Linking Ropes


Ropes & Body Parts
- Ropes Through Body
- Kellar Rope Tie
- Gysel Spirit Tie


Cut & Restored Rope
- Perplexo Cut & Restored Rope
- Cut & Restored Rope (Slydini)
- Classic Cut & Restored Rope
- Magician's Cut & Restored Rope
- Cut & Restored Rope (circa 1584)
- The Slidng Knot
- Instant Restoration
- A Novel Knot Steal & The Pop-Off Knot
- Comedy Trimming


The Hitch
- The Hitch Knot
- Wholesale Ring Removal
- Visible Melt-Off
- Jay-Bee's Undisturbed Knot


Penetrations
- Pull Through
- Rope Through Spectator's Finger
- Rope Through Magician's Finger
- The Square Detector
- The Thumb Penetration
- Rope From Hand Release


Superhuman Stunts
- Master Muscle
- Sawa's Supernatural Rope


Langue : Anglais.


Retour au catalogue