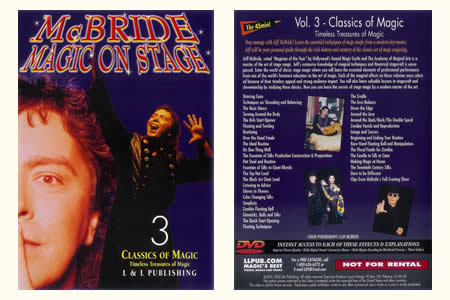 Description
Voici le troisième volume de la série très complète des Dvd
McBride Magic on Stage
qui s'intitule
Classics of magic – Timeless Treasure of magic
.
Classics of magic est un Dvd époustouflant dans lequel Jeff McBride vous dévoile les éléments essentiels de la magie. Les effets choisis sont avantageux de par leur durée mais aussi de par leur fort impact. Apprenez les secrets de la magie avec un des plus grands maîtres.
Ce Dvd inclut entre autres choses :
Dancing cane.

Hat steal and routine.

Gloves to flower.

Zombie floating ball.

The cradle.

Down the edge.

The floral finale for zombie.

The 20th century silks.

et beaucoup d'autres.


Avantages

Tous les secrets de tours simples et impressionnants.

Un grand sens du détail.

De nombreux conseils du magicien.

Un style propre à l'artiste.


Langue : Anglais. Dvd multizone




Retour au catalogue
Cet article n'est
plus vendu sur Magicaplanet