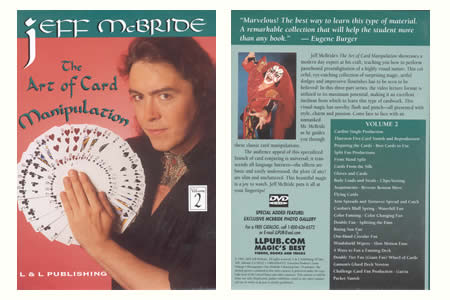 Description
Jeff McBride
fait partie des plus grands manipulateurs au monde. Il fut couronné 'Magicien de l'année' par le Magic Castle d'Hollywood.
Depuis plus de 20 ans, Jeff sillonne le monde et n'a pas son pareil en matière de culture magique.
Devenez un PRO dans les manipulations de cartes sur scène !!! Jeff McBride vous dévoile les plus grands secrets sur cet art.
'THE ART OF CARD MANIPULATION' VOL 2
Deuxième volume d'une serie de 3 DVD pour tout connaître sur la manipulation des cartes sur scène.
AU SOMMAIRE :
Cardini Single Production

Thurston Five-Card Vanish and Reproduction

Preparing the Cards - Best Cards to Use

Split Fan Productions

Front Hand Split

Cards From the Silk

Gloves and Cards

Body Loads and Steals - Clips-Vesting

Acquitments - Reverse Benson Move

Flying Cards

Arm Spreads and Turnover Spread and Catch

Cardini's Bluff Spring - Waterfall Fan

Color Fanning - Color Changing Fan

Double Fan - Splitting the Fans

Rising Sun Fan

One-Hand Circular Fan

Windshield Wipers - Slow Motion Fans

4 Ways to Fan a Fanning Deck

Double Tier Fan (Giant Fan) Wheel of Cards

Ganson's Glued Deck Version

Challenge Card Fan Production - Garcia

Packet Vanish
Une série incontournable !!!
DVD en anglais.

Retour au catalogue
Cet article n'est
plus vendu sur Magicaplanet