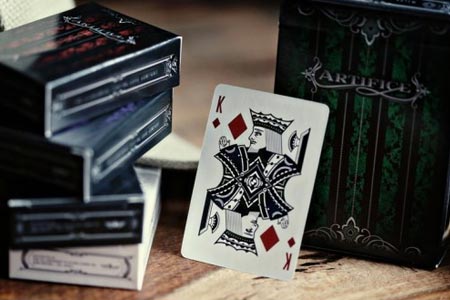 Description
It's time for something new! All the high impact graphics that you love to see on Artifice decks can now be found in these mini decks. The cards are the same as the standard size ones, except for their dimensions! No detail has been held back, in the reproduction of these mini decks. The possible uses for these decks are uncountable, just let you imagination on the loose.
• Ellusionist quality.
• Take them everywhere with you… they easily will slip into your pocket.
• These decks have a superior quality to most mini decks.
• Use them for specific mini deck routines, or simply for your usual card tricks.
Please Note: The pips on the Blue, Green and Red Artifice decks have been intentionally kept black for all four suits. The Court cards however, do keep the reds for Hearts and Diamonds, so that you can still perform changes from regular cards to the mini deck without discrepancy.

Return to the catalogue
This item is no longer
sold on Magicaplanet