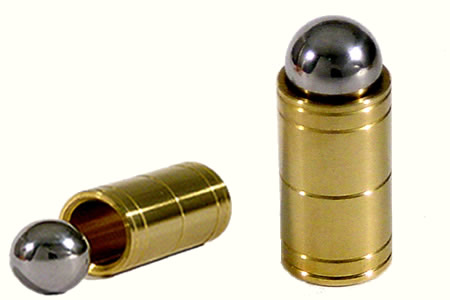 Description
Show to your audience a brass tube and a steel ball.
They will rapidly notice that
the diameter of the ball is ampler than the tube's
. So the ball can pass thru the tube.
You put the ball on the tube and of course nothing happens.
Explain that you can deform metal and you are going to prove it.
Suddenly, the audience is amazed :
the ball sink in the tube
. It disappear totally in the tube.
The audience is aghast.
Just a magic pass and
the ball climb up the tube
and come out of the tube.
Finally, give the equipment for examination. Spectators will rush on it, but they will be very disappointed.
An inspired idea and an undetectable system.

Two minutes of practice are enough to realize the effect.

No need of exchange.
Return to the catalogue