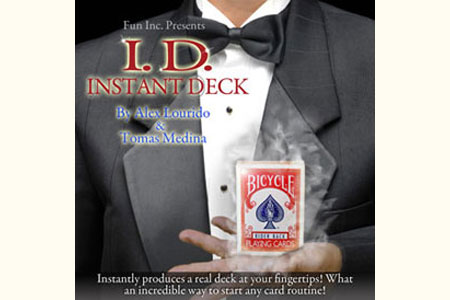 Description
Have you ever wanted to produce a deck of cards any time in your act? One moment, your hands are empty. The next — WHAMMO! — you're holding a deck of cards.
Now you can. The secret device that makes it possible is called The ID — The Instant Deck.
- The perfect opening trick.
- Easy to do.
- Produce boxed or loose cards.
- Works with other items, too: wallets, phones, GPS systems, and much more.
- Switch decks undetectably.
-Performable close-up or on stage.
-Does not need to be an opening effect.
Over two years in the making, The ID is a precision device, factory made in the USA. Each one is supplied with DVD instructions featuring creators Tomas Medina and Alex Lourido teaching dozens of tips, handlings, and tactics that will make The ID an instant hit in your act.

Return to the catalogue