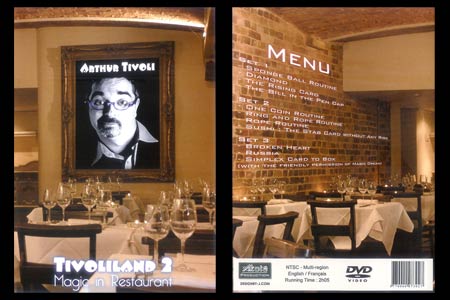 Description
Voici enfin Tivoliland n°2. Dans ce DVD, Arthur Tivoli va vous apprendre quelques routines à réaliser au restaurant.

A l'aide d'objets faciles à transporter, balles mousses, cartes, corde…vous passerez aisément de table en table pour le plus grand plaisir de tous !

AU SOMMAIRE :

Première Partie :
Sponge Ball Routine
Diamond
The Rising Card
The Bill in the Pen Cap

Deuxième Partie :
One Coin Routine
Ring and Rope Routine
Rope Routine
Sushi : The Stab Card without any Risk

Troisième Partie :
Broken Heart
Russia
Simplex Card to Box (with the friendly permission of Magic Dream)

Langue : anglais, français – Durée : 2h05.
Return to the catalogue