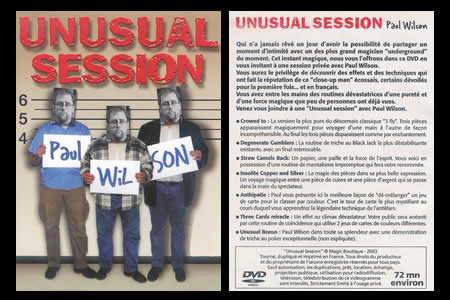 Description
Close-upman écossais de grand talent, Paul WILSON présente et explique dans ce DVD six routines de sa création.

Au Sommaire :


Crowed to :
La version la plus pure du désormais classique "3 Fly".Trois pièces apparaissent magiquement pour voyager d'une main à l'autre de façon incompréhensible. Au final les trois pièces disparaissent comme par enchantement.


Degenerate gambler :
La routine de triche au black poker la plus déstabilisante existante, avec un final mémorable.


Straw camel back :
Un papier, une paille et la force de l'esprit. Vous voici en possession d'une routine de mentalisme impromptue qui fera votre renommée.


Insolite copper and silver :
La magie des pièces dans sa plus belle expression. Un voyage magique entre une pièce et une pièce d'argent qui se passe dans la main du spectateur.


Anthipatie :
Paul vous présente içi la meilleure façon de "dé-mélanger" un jeu de cartes pour le classer par couleur. C'est le tour de carte le plus mystifiant au cours duquel vous apprendrez la légendaire technique de l'antéfaro.


Three cards miracle :
Un effet au climax dévastateur. Votre public sera anéanti par cette routine de coïncidence qui utilise deux jeux de cartes de couleurs différentes.


Unusual Bonus:
Paul Wilson dans toute sa splendeur avec une démonstration de triche au poker exceptionnelle (non expliquée).

Des routines dévastatrices d'une pureté et d'une force magique rare.


Durée : 72 minutes - Langue : Français.
Return to the catalogue