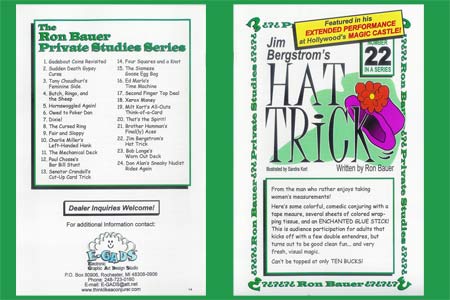 Description

Here's another treat for your audiences!
Ron Bauer has just released #22 in his Private Studies series, "Jim Bergstrom's Hat Trick."

It's an innovative, colorful comedy version of the Torn Tissue Papers to Hat that's a worthy feature effect for any close-up and stand-up adult audience.

Your audiences will be flummoxed in the best way by this action-packed frenzy of bits and pieces of colorful tissue flying in all directions leaving behind a lady's hat in a stunning five-color floral décor and set off with Bergstrom's Bountiful Blossom. What woman wouldn't be proud to wear your crafty creation for the rest of the evening?

The Hat Trick is now available with detailed instructions and a complete, annotated performance script. You get all the gags and bits of business Jim has used in thousands of shows for first class audiences from Grosse Pointe to Chicago to Hollywood.


Language: English, 32 illustrated pages, includes photos and more than 30 illustrations.

Return to the catalogue